Click here to see the boundary of the Argoed Community 
ARGOED COMMUNITY COUNCIL
Your Community Council is a corporate body with a legal existence of its own quite separate from that of its members. Its decisions are the responsibility of the whole body. The council has been granted powers by Parliament or the National Assembly for Wales, including the right to raise money through taxation (the precept as part of the Council Tax you pay to Flintshire) and a range of powers to spend public money (more later).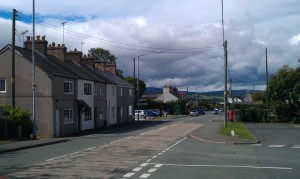 Argoed Community Council is an elected tier of local government. Locally the other tier in our case is Flintshire County Council. County or county borough councils have a legal duty to deliver services such as education, town and country planning, environmental health and social services. Community and town councils have the legal power to take action, but they have fewer duties and freedom to choose what action to take. They can play a vital part in representing the interests of their communities and influencing other decision makers. Furthermore they can take action to improve the quality of life for local people and their local environment and, in some cases, they can deliver services to meet local needs.
The Welsh Government encourages community and town councils to deliver more services and play a greater part in their communities.
In the case of Argoed Community Council, our responsibilities include –
Provision and maintenance of Council's website

Litter picking in parks and play areas within the community

Provision of Bus shelters

Provision of some street lighting – to report a problem click 'lighting" 

Provision of roadside seats

Provision of play equipment

Provision of litter bins (where not provided by Flintshire Council)

Provision of names signs at boundaries of villages

Provision of CCTV around Mynydd Isa Community Centre

Provision and maintenance of floral displays

Provision of Christmas trees and festive lighting

Organisation of Christmas Concert

Provision of Notice Boards

Maintenance and management of Bryn-y-Baal Quarry

Consultation by Flintshire Council (Local Planning Authority) for Planning Applications in Argoed

Consultations by other Government or statutory bodies

Provision of grants o local organisations
 For further details of the legal powers of Community Councils see 'The Good Councillors Guide 2012' page 43.
 We have representatives serving on a number of outside bodies –
Argoed Sports & Social Club

Flintshire Council Standards Committee

Flintshire County Forum

North and Mid Wales Association of Local Councils

Ysgol Mynydd Isa governing body