ST CECILIA's  Mold Road, Mynydd Isa
The eastern half of the Argoed is part of the Bistre parish centred on Emmanuel Parish Church in Buckley which was built in 1842 – in 1892 a separate 'daughter' church was built at what was then known as Pant-y-Fawnog, at the junction of the Mold – Buckley Road and Chambers Lane.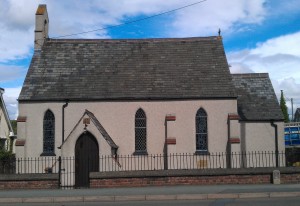 St JAMES CHURCH, New Brighton
St James church http://parish.churchinwales.org.uk/a118/churches-en/st-james_-en/ in New Brighton, a daughter church of St. Mary's, the Parish Church of Mold http://parish.churchinwales.org.uk/a118/ , was opened in 1893.  
 Every Sunday 9.30am Eucharist – followed by tea/coffee & biscuits
  1st & 3rd Tuesday of each month – 6.30pm short spoken Eucharist
    2nd Tuesday each month – Village Lunch – 11.45am for 12 noon
        2 course meal with tea/coffee for £4.00 – a bargain !!
                               – All are welcome –
  CHRISTMAS DINNER  –  2nd Tuesday in December – 11.45am for 12 noon
   Important to book by contacting the Church Warden – Marlene Smyth
               89 Moorcroft, New Brighton. Telephone Mold 754029
VILLAGE TEMPLE  Congregational Church, Rose Lane, Mynydd Isa

 
Founded in 1912, the church opened in February 1912 and was a wooden framed iron clad church which survived until 2006 – a history and pictures of the old church can be found on the Church's website http://www.villagetemple.org.uk/