Residents who frequently catch the bus at Bryn Road Bryn Y Baal are pleased that they now can take cover in a new shelter. Argoed Community Council decided to apply for the shelter after it was suggested by New Brighton member Cllr Dai Jenkins and considered it a worthwhile project due to the open aspect of the site and the prevailing wind.
Cllr Dai Jenkins Said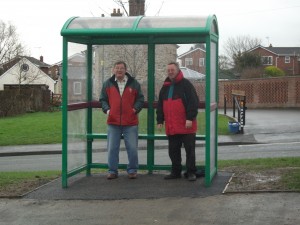 "it's a blustery place to catch a bus and I have often felt sorry for the residents I've seen waiting for buses in the wind and rain".
The Bus Shelter will serve passengers travelling in both directions. Both Flintshire County Council and Argoed Community Council contributed to the bus shelter.
Pictured is Cllr Dai Jenkins and the Chair of Argoed Community Council Roy Marsh try the shelter.